Taint and epoxy flooring systems in the Food and Drink industry
The performance of floors in all food and drink manufacturing and processing areas is coming under increased scrutiny. The need for high and rigorously maintained standards of hygiene and safety, has brought new pressures on everyone involved with design, installation and maintenance of floor and wall finishes.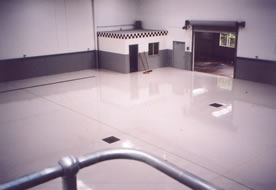 Self levelling Food Grade floor for mechanic's workshop
Most industrial floor surfaces must be designed to withstand severe wear and impact damage caused by constant trafficking. In the food and drink industry there are other considerations that must be made for floor construction and repair. The floor surface must be able to withstand chemical spillages, which are often highly aggressive and it must be suitable for wet and dry processes.

The consequence of a tainted product reaching the consumer can be devastating to the food manufacturer, for example it may result in loss of high value finished product, expensive litigation, loss of confidence in an established brand name and de-stocking by retail chains.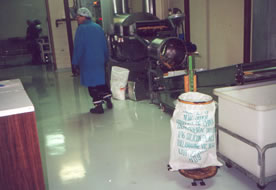 Food Grade floor for food processing plant
A poor understanding of the nature and sources of taint is one major reason that the consequences can be so serious. The term taint is usually used to describe foreign flavours in food that arise from external sources absorbed by the foodstuff and which are perceived as being unpleasant. In general, the chemical species that are responsible for taints are present in extremely low concentrations, but can be detected as a consequence of their low threshold levels, commonly in the ppb range.

Toxicity is rarely a concern but highly sensitive chemical analysis methods need to be utilised to detect the species, particularly against the background of other food components. Taint can also be confused with off-flavour which it is not. Off-flavour describes foreign flavours associated with internal degradation from the foodstuff itself.

In a survey of problems in the Australian food industry some years ago, the majority of problems investigated were associated with chlorophenols and also with chloroanisoles formed following action of micro-organisms on chlorophenols. Secondary chemical reactions can also result in the formation of chlorophenols, for example from reaction of materials containing free phenol. Flooring systems have from time to time caused severe problems in the food industry, especially low grade epoxy flooring systems.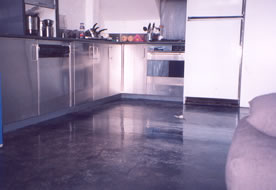 Food Grade floor for caterer's kitchen
The chlorophenols are formed when cleaning chemicals containing hypochlorites or active chlorides react with phenol's contained in the epoxy floor system. Taint can also occur when the flooring system is being mixed and applied as taint can occur over both short and long distances, for example during the curing process of epoxies or the drying of paints.

Foodstuff tainted by chlorophenols can be recognised in a number of ways. They can emit a smell or odour or much later when the food is being consumed, the taint is picked up in the mouth. It is clear that taint is a critical issue that has to be overcome by food and drink manufacturers and that it is no easy task, especially with so many new materials being supplied in to the market.